A kitchen remodel project can make or break the most important room in your home. It goes without saying that you should look for the best contractor you can get to ensure everything goes as planned. But with so many services on offer in the remodeling industry, how do you know which service provider best suits your project? This blog post details some crucial considerations when searching for a kitchen remodeling contractor.
How do I hire a kitchen contractor?
There are several qualities that your prospective service provider should possess. Remember to focus on the following whenever you're in the hunt for a kitchen remodel expert:
Find a contractor that is licensed and insured
You must find a general contractor who has adequate insurance and licensure to be able to do the job. A licensed professional will hold themselves accountable for their work, whereas an uninsured one might not feel obligated or may even disappear when things don't go as planned. Licensing assures you of an experienced contractor that knows exactly what they are doing. Meanwhile, insurance serves to absolve you of any liability in the event of an accident.
Work with a contractor that offers an in-home consultation
It's important to have the opportunity to see what your options are before committing to anything, which is why you should look for a kitchen remodel company that offers in-home consultations and free estimates. Not only will this give you ample time to assess the quality of work and overall cost, but it also allows you the time to get to know your service provider on a more personal level.
Be wary of contracts that guarantee complete satisfaction
Contracts are usually written in favor of the party offering them. As such, they may have a way out for just about any possible circumstance that can arise from a project going south or being delayed. It is also common for contractors to include clauses requiring you, the client, to pay even if they are at fault and those requiring arbitration should dispute arise. In short, any contract promising complete satisfaction from both parties will most likely have several loopholes built into them that can be used against you if things go wrong later on.
Get at least three bids from different local contractors
Compare quotes from different contractors before choosing which ones meets your needs. This will allow you to have a set of comparable bids from which you can select the best option for your remodeling project while also giving each contractor a fair shot at earning it. It also enables you to filter out reasonable prices from the overpriced quotes. Make sure that the quotes are free and in writing to avoid any confusion later on.
Request references for previous clients
It is almost inevitable that problems will arise during a project. A good contractor will have no problem providing you with contact details for previous clients willing to serve as references. In contrast, an untrustworthy one may not be able to provide any or offer up some poor ones in their place. Finding out what past customers have to say about the prospective project supervisor will give you an idea of their overall professionalism and reliability as a service provider.
Check google reviews online about the company you are considering hiring
Online reviews can give you a glimpse of what past clients have to say about the company and its services. Not only will this tell you if they are well-liked, but it may also highlight issues that other customers had during projects. This could point out potential pitfalls within the service provider's operations that should be considered when weighing your options. You can do this by searching online through various websites to find reviews of companies and individuals, positive or negative ones.
Ask to see pictures of their work, including before and after photos 
It's always a good idea to ask for before and after pictures of previous similar projects that the contractor has completed, as well as testimonials from other clients. Seeing how they have handled similar jobs will indicate their overall level of expertise in the industry and even offer good ideas on what you want to do. Meanwhile, customer feedback can also help gauge what might be expected from them.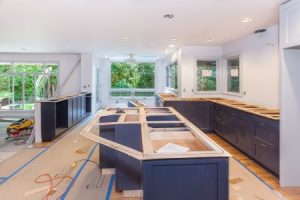 Conduct interviews with potential candidates
This is an important step to take as it will allow you to have a conversation with your service provider and get more information during the interview process that can be useful in making an informed decision. A good contractor should be able to answer most of your questions without hesitation, while someone who dodges them altogether may not be very trustworthy or is hiding something. You also want to make sure there will be no subcontractors involved. Furthermore, you'll have a chance to decipher whether the contractor has the creativity to make your vision come true.
What are the benefits of hiring a kitchen remodeling contractor?
A professional service provider will provide you with quality results without any hassles or delays in completion. They should also have an established track record of satisfied clients, as well as excellent references from past customers they've worked with. Working with an experienced and reliable kitchen remodeling contractor can save you time, money, and effort.
Let Us Handle Your Kitchen Remodeling
Hiring a kitchen remodeling Vancouver WA contractor is not just about finding the best bidder, but also someone who has proven to do good work and met the expectations of their clients. At Scherer Enterprises, we offer experienced and professional contractors to guarantee complete customer satisfaction. Contact us via phone or mail for a free consultation, and we'll help make your dream kitchen a reality!