When it comes to bathrooms, plain and simple can often lead to feeling uninspired. However, if you plan a bathroom remodel properly, you'll end up with a stylish and welcoming space. From upgrading the vanity or shower tile to incorporating unique artwork or adding a skylight, there's plenty of ways to transform that drab room into one beaming with character. Investing in thoughtful details and premium features such as glass paneling or a home spa will create an atmosphere filled with luxury for yourself and your family members every time they step in.
Choose Your Overall Style You Want and Research
When you embark on the bathroom remodeling journey, one of the most important decisions is to pick an overall style that appeals to you and your family. You could go for sleek and modern or choose something with traditional appeals, such as farmhouse chic. Take some time to research style ideas and browse magazines for inspiration – it's a great starting point for the direction you'd like to take. Think about the colors and patterns you like and pick complementing elements that will likely blend well together. Think about the materials you want to incorporate. Consider your budget. How small or large in renovations do you want to go?
Choose Your Wall Colors and Accent Colors
Choosing the wall main and accent colors for your bathroom can be tricky. A great way to start is by selecting a more neutral color palette, like white or beige, for bigger components, such as walls, floors, counters and shelves. Then, bring in small but impactful pops of brighter, richer hues like red or green to make things vibrant. Little touches of these colors can instantly add charm and character that you'll appreciate every time you walk into the bathroom.
Match Your Metal Fixtures, Faucets, and Knobs
Utilizing the same finish throughout your bathroom space is an easy way to make it look pleasing to the eye with minimal effort. You can create a harmonious atmosphere quickly by ensuring your handles, faucets, and fixtures have the same finish as your taps. Plus, with such uniformity in play, small changes to the décor or accessories won't disrupt the unifying environment you've established.
Decorate and Refresh with Plants
Combining organic materials such as wood and terra cotta with lush green house plants can make for a fantastic look that no one will forget. Succulents, air plants, ferns, orchids, spider plants, and snake plants are some of the best options for adding a unique green touch to your bathroom space while at the same time purifying the air.
Add Shelving for Extra Space
Adding a shelf to your bathroom can be a great way to store your everyday items, such as hand towels, toiletries and beauty products. Explore recessed shelving options. This allows you to accommodate the same amount of storage space – or more – by cutting out a part of your wall and replacing it with an integrated shelving unit. Not only does this provide more wall space, but it can also significantly change the look and feel of your bathroom.
Additionally, make sure that you consider any additional ways to free up space; this may involve decluttering oversized items, relocating certain fittings like shower cubicles or sinks closer together, or moving these items to a different place in the bathroom.
Update Shower, Tub, Sinks, and Toilet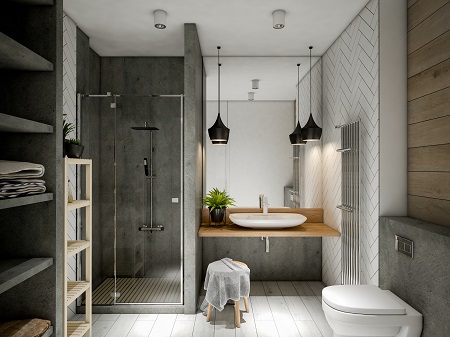 Shower enclosures can make all the difference in your bathroom remodel. New enclosures come with various glass types and framing options, available in color finishes that range from bold and modern to elegant and timeless. Consider building a separate spa or bathtub space in your bathroom for extra relaxation and luxury, or use the paneling to create a rainshower head for a truly indulgent bathing experience.
You may also want to upgrade the sinks and faucets in your bathroom along with the shower enclosure – swapping out styles of basins or mixing and matching metals or shimmery ceramic finishes can transform a drab space into one full of visual interest.
To further amp up the design and functionality, don't forget to add an upgraded toilet, as it can bring comfort and enhance the overall atmosphere.
Upgrade to Vanity Lighting
Even if you keep your bathroom super clean, it can feel dark and dreary without the proper lighting. Upgrading to modern vanity lighting is a great way to change that instantly – vanity lights will significantly increase the space's brightness, making the room cleaner-looking, shinier and more inviting. Having adequate lighting also helps improve functionality; putting on makeup, doing your hair, or shaving your face becomes much easier with equally distributed light from vanity fixtures. Not only will you be able to see what you're doing better, but vanity lighting also reduces shadows for a more precise application.
Consider a Floating Vanity
A floating vanity is a great way to increase the sense of space in your bathroom. Not only can it create a modernized and chic look, but it also eliminates the perceived bulkiness of traditional vanities. By removing these bulky features, you can have more room visually and in terms of square footage.
Invest in a Large Mirror
Mirrors add an interesting element to any space; they provide a unique way to capture light and further enhance the space in creative ways. A frameless mirror makes a statement – it can be used to amplify the amount of light bouncing off of its surface while providing a clear line of sight without any halting disruptions or obstruction. Using frameless mirrors can make even a small room feel much larger and more spacious due to how the mirror bounces light around its environment.
Let Your Tile Stand Out
With so many shapes, sizes, and colors to choose from, there are endless tile design opportunities for making a statement in your bathroom.
Subway tile offers a timeless classic feel.
Medallion tile gives a creative design that can really liven things up.
Glass mosaic tiles can help create a border around your shower that stands out beautifully.
Combine different sizes of arabesque tiles in one area for floral patterns.
Herringbone tile designs bring intrigue and uniqueness to any room.
Include Advanced Technology Upgrades
There's no doubt that technology has taken over our home lives, but one room tends to be overlooked – the bathroom. Luckily, there are many ways to turn your ordinary bathroom into a tech-savvy sanctuary. Digital showers allow you to quickly set the water temperature and pressure so you can step into a shower that's just perfect for you. And if it's ultimate convenience you want in your bathroom, smart faucets enable hands-free activation; heated toilet seats take away the chilliness on early morning bathroom visits; and self-flushing toilets make sure you can keep your bathroom sparkling.
Scherer Enterprises Can Help You Create a Fashionable and Functional Bathroom
The bathroom is more than just a utility room. It can be a place where you go to relax, destress and take a little time for yourself. From cozy spa-like retreats to modern oases of serenity, Scherer Enterprises has the experience and skills to lend the perfect vision of your ultimate home restroom. With over 10 years of experience in bathroom remodeling in Vancouver WA you can trust that our bathroom remodeling experts know how to restore your bathroom back to its original splendor – or better! With Scherer Enterprises on board, it's easy to make any vision of your personal sanctuary into reality. Contact us today to get started on your dream bathroom remodeling project!
Some bathroom remodeling options we provide include:
Floor plan redesign
Custom showers
Bathroom hardware remodeling
Adding new bathroom walls and plumbing
Custom bathroom cabinets
Electrical fixtures and facets
And more!
Benefits of choosing Scherer Enterprises:
We have a wide variety of green material selection options.
Many design choices, from just changing basic room colors to doing a complete bathroom remodel.