Perfect Bathroom Remodeling Services for Your Vancouver Home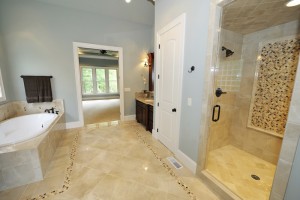 The bathroom is a place where you can unwind and wash away the day's stress, but each person has a different idea of what that looks like. At Scherer Enterprises, we can bring your ideal, relaxing vision of the perfect home restroom to life with our extensive remodeling contractor experience in bathrooms in Vancouver, WA.
As with everything we do, Scherer Enterprises' bathroom remodeling contractors begin by listening to you and hearing your vision. We take a look at the current design and piece together a plan that encompasses the changes you want to see for your bathroom. We take as much time as necessary to get a feel for your style and ensure we have your interests in mind before any remodeling begins.
Do you prefer a rustic look or perhaps the simple straight lines of a Japanese-styled bathroom? Do you need to add specific sinks or finishing products that make the bathroom more functional for your family? Once we learn what you have in mind, we work with you to design the bathroom remodeling project of your dreams. You can be as hands-on or hands-off as you like; in the end, the design will be one that you love and approve before our expert remodeling contractors begin their work. We use a large variety of top-of-the-line brand names and design options. No matter your style, you will find it in our inventory.
Our Premium Bathroom Design Options for Vancouver
Remodeling options from Scherer Enterprises will provide your bathroom with a premium upgrade that combines the look you have in mind with the functionality you need from an up-to-date restroom area. From small changes like refinishing cabinets and flooring to larger projects like expanding your restroom's space and moving walls, our bathroom remodeling contractors in Vancouver are skilled and capable enough to take on any project. We also work within your budgetary restraints to provide a renovation that fixes your bathroom without breaking your bank.
Some bathroom remodeling options include:
Tiling tub, shower, flooring or walls
Countertop installation
Custom showers
Custom tubs
Walk-in bathtubs
Glass blocks
Fixtures
Lighting
Floor plan redesign
New flooring
Adding new walls and plumbing
And More!
Vancouver's Customer Satisfaction is Key to Our Remodeling Process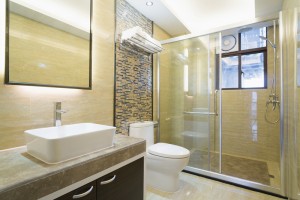 There is a reason so many of our newer customers are referred to us by other satisfied customers. At Scherer Enterprises, we focus our complete attention on the job right in front of us. With great attention to detail and an eye for elegance, our craftsmen carry out each bathroom remodeling project as their own work of art.
We finish each job on time and on budget, whether it's a kitchen remodeling project or a complete custom home renovation. We are honest and forward with all our communication and pricing. We know you will feel like we are a partner in remodeling your bathroom, not a dictator or an absentee contractor.
Ask us about our options for green materials as well as the ways we can make your bathroom more energy efficient. We love adding value and beauty to your home while also making it more eco-friendly!