Your Search for Kitchen Remodel Near Me Is Over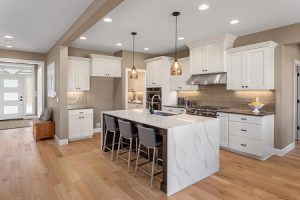 The kitchen is often the heart of your home. It tends to create memories, providing a space for family and friends to congregate. It is also the number one selling point for a home as it is a space where the family spends a lot of time. This combination of sentimental and financial value makes your kitchen space a significant asset, which is why upgrading its look and functionality can be imperative for both its future value and your future enjoyment.
When it comes to kitchen remodeling projects in Vancouver, WA, no one has the skill, craftsmanship, and experience to match our remodeling contractor team at Scherer Enterprises. Contact us today to start planning your dream kitchen.
Detailed and Perfected Kitchen Design
From design to remodeling completion, Scherer Enterprises works with you to build the perfectly beautiful kitchen space for your needs. Our experienced contractors in Vancouver start by listening to you; we go over details like the usage, accessibility, and changes you would like to see in your current kitchen design. Our contractors plan a complete kitchen remodel design that matches the needs of your family. We also have environmentally sound building materials to choose from and ways to make your kitchen more eco-friendly. Everything centers on your needs and vision. By determining these details, we can bring them to fruition.
We can work with different budgets to include small details that make a large impact. We have no issues working within any budgetary constraints to change faucets, fixtures, and lighting, and we will provide you with a multitude of options, such as the following:
Flooring
New Appliance Installation
Back Splashes
Countertops
Custom Kitchen Islands
Custom Cabinets
And More!
Our experience allows us to work within your current floor plan to resurface your space with elegance and beauty.
If your budget is a bit larger, we can start from scratch and design a whole new floor plan for your custom home remodel. We can also create new home additions to give your space a new look. Your vision and your budget is our guide — and you would be amazed at how far we can make your budget stretch without comprising your complete kitchen makeover!
Kitchen Cabinets
If you're considering a kitchen renovation service, starting with custom kitchen cabinets is a wise choice. Not only do they serve as a functional storage space, but they also play a major role in the overall aesthetics of your kitchen. With endless options for quality materials, colors, and styles, you can easily customize your cabinets to fit your personal taste and design preferences. Whether you opt for sleek, modern cabinets or traditional, rustic ones, upgrading your kitchen cabinets can enhance the beauty and functionality of your space.
Kitchen Countertops and Kitchen Island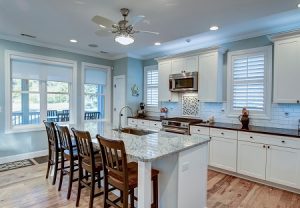 Upgrading your kitchen can be a daunting task, but with the help of Scherer Enterprises, the process can be seamless and enjoyable. From selecting the perfect kitchen countertops and a new island to installation and finishing touches, our design team of professionals is dedicated to guiding you through every step of the way. With our expert knowledge and access to industry-leading materials, we ensure that your kitchen renovation exceeds your expectations in both functionality and style.
The Kitchen Remodel Vancouver Trusts
The kitchen remodeling expert contractors at Scherer Enterprises are well-vetted in their work. They are excellent at communication and talented at kitchen design and strive to finish on time and on budget.
Our reputation around the Vancouver, WA, area has grown on years of excellent kitchen remodeling at a price our customers can afford. The majority of our business has come from the references of friends and families, so your satisfaction is incredibly important to us and the future of our business.
We give each and every Vancouver kitchen remodeling service our total attention, ensuring that each detail in your remodel plan is carried out with precision. We take pride in our kitchen work, and we hope your remodeling experience will encourage you to reach out for our other remodeling projects, like our bathroom remodeling service or home additions.
Contact Scherer Enterprises today to discuss your kitchen remodeling plans in Vancouver WA, and the surrounding area!